Albus Percival Wulfric Brian Dumbledore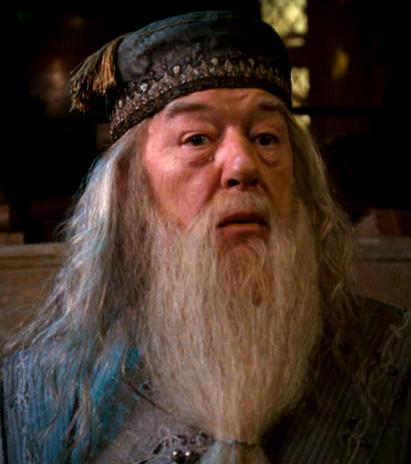 'My Name Is, My Name Is...'
Basic Information:
Full name: Albus Percival Wulfric Brian Dumbledore
Nickname(s): Referred to simply as Dumbledore by most.(obvious)
Age: 116
Date of Birth: Sometime in 1881
Gender: Male
Sexuality: Homosexual (but in all of the time on this website he will have
no
relationships).
Blood Status: Half-blood (Dumbledore's mother, Kendra, was muggle-born.
House: Gryffindor
Job: N/A
Broom: N/A
Wand: Elder Wood, Thestral Tail Hair, 15 inches.
Affiliation: Order of the Phoenix, Hogwarts
Canon
or original: Canon.
'I Got My Looks & You Got Yours'
The Looks:
Hair colour: Grey, formerly auburn.
Eye colour: "Piercing blue"
Height: Not known, "tall" throughout all of the books and around 5 feet 11 inches.
Weight: Not known; "thin" throughout all of the books.
Distinguishing features: A crooked nose due to having it broken twice before; and has claimed to have a scar on his knee in the precise shape of the London Underground; his fingers are very long; an extremely long silver beard and long silver hair.
Clothing style: Long robes generally always grey (Michael Gambon-esque although in the books are crimson red and sometimes purple), very "wizardy" appearance; half-moon spectacles;
Face Claim: Michael Gambon
Overall Description: Albus Dumbledore was a serene, calm person with long grey robes. His glasses were half-mooned and sat on his crooked nose that looked as if it had been broken twice. His long beard gave him the wise-appearance that suited his personality perfectly. His blue eyes often described as piercing, but on very few occasions have been described as shining like cold fire.
'Cause you got personality'
Personality
Likes: Knitting patterns, Chamber Music, Ten-Pin Bowling, Muggle & Wizarding Sweets alike and raspberry jam.
Dislikes: Known to have a dislike for Bertie Bott's Every Flavour Beans, Pure-Blood Elitism and known to not be an avid broom-flier.
Strengths: A Master of Magic, Dumbledore was considered by most to be the greatest wizard of all time and was feared by the Greatest Dark Wizard of All Time, Lord Voldemort and Gellert Grindewald. He invented a method of messaging with Patronuses and claimed he could make himself invisible without the use of a cloak. Dumbledore was a well-regarded potioner such as when he discovered the 12 Uses of Dragon's Blood and a Charms Master he was also excellent at Transfiguration serving as Professor of the aforementioned subject.
Weaknesses: Dumbledore has few Weaknesses, but told Harry that he believed his biggest weakness was his lust for power. He clarified he would only ever use the power for good, but added power is best-suited for all those who do not seek it.
Common Knowledge:
Secrets: Not known to be gay commonly in the Wizarding World and also that he had a sister that he possibly could have accidentally killed, many rumoured she was a Squib.
Boggart: Dumbledore's Boggart was the Corpse of his now deceased sister Ariana, she died during a three-way duel of him, Aberforth Dumbledore and Gellert Grindewald.
Patronus: It was revealed to be a Phoenix possibly and most likely because he owned a Phoenix named Fawkes.
Mirror of Erised: Dumbledore saw his entire family reunited again; his Mother, Father and Sister alive again and his brother reconciled with him, he sees his family as completely fallen apart and blames his selfishness.
Overall Personality: Dumbledore is generally a calm individual of prodigious magical skill, revered to be the most powerful Wizard of his time - and sometimes of all time - and even acknowleged to be a powerful wizard by Lord Voldemort, he follows the route of good and is disapproving of evil.
'See, All I Did Was Blink Twice...'
The History:
Nationality: British
Hometown: Born in the town of Mould-on-the-Would but later raised in Godric's Hollow.
Father: Percival Dumbledore (dec.)
Mother: Kendra Dumbledore (dec.)
Siblings: Aberforth Dumbledore and Ariana Dumbledore (dec.)
Other: "Honoria", an Aunt Dumbledore mentioned in
The Tales of Beedle the Bard
.
Pets: A Phoenix named Fawkes.
History: Dumbledore was born in the mostly wizarding village of Mould-on-the-Would in the summer of 1881 to Kendra and Percival Dumbledore, Dumbledore was raised there until his sister Ariana was caught by two muggle children performing magic and they attacked her. She was traumatized by this and his Father, Percival, seeking retribution attacked the boys and was sentenced to life in Azkaban. The Wizarding World hung over their shoulder and Kendra moved her family to Godric's Hollow.
Dumbledore went to Hogwarts School of Witchcraft and Wizardry with pupils expecting him to be a pure-blood elitist, but they found he was muchly the exact opposite and refused to discuss his father or sister. He was found to be in his First Year one of the most skilled pupils Hogwarts had ever had and left with huge expectations. During this time he received and Order of Merlin, First Class and held many other titles such as Grand Sorcerer, Supreme Mugwum and Chief Wizard of the Wizengamot. He was offered the Minister of Magic position several times but due to a three-way duel between himself, Grindewald and his brother and his realisation of his lust for power he refused it and took a job as Professor of Transfiguration and Head of Gryffindor House and later Headmaster.
He spent his time in Hogwarts being one of the best Headmasters yet, and founding the Order of the Phoenix under Lord Voldemort to fight against him, it was refounded at the beginning of the Second Wizarding War and remains active today.
'I'll Be Living My Life Doing Things My
Way...'
Now is the Time:
Current place of residence: When not at Hogwart's he stays at a manor in the country, its exact location is unknown.
Relationship Status: Single (and it won't change).
Significant Other:
Children:
'I Got That Rock And Roll...'
Behind The Half-Mooned Spectacles:
Name: Ryan
Age: 13
How you found us: Bebo
Anything else: Nope (:
Role-play post: Albus Dumbledore.
Quote :

Keep it in the quotes baby